real estate
Responsive Portal Design and Programming for Latio Real Estate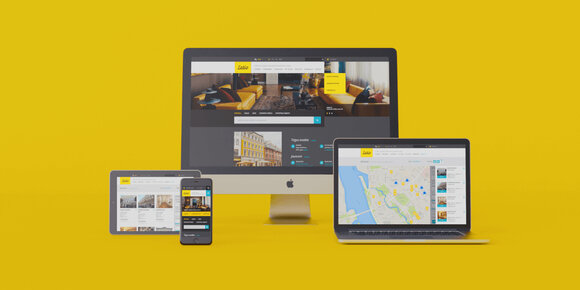 Along with rebranding, Latio had to develop a new – modern and functionally rich – real estate website to reinforce its image as a leader and expert not only in the real estate industry but also in the digital environment. Easily accessible on smartphones and with successful SEO positioning, the solution would help attract new clients from Russia, China and other countries, which, in turn, constitutes one of the company's current business goals.
RESEARCH AND PLANNING
Before beginning work on the site's technical development, we studied current trends on real estate websites around the world, as well as, via Latio estate brokers, surveyed clients to understand the criteria they use when choosing a property.
Later we described the most popular use scenarios which became a platform for developing the site wireframes. Since the site was created to be responsive, the frames were developed in two versions for both computer and smartphone screens. This approach allowed for timely content definition and functional priorities, so that the site would be equally accessible on all kinds of screens.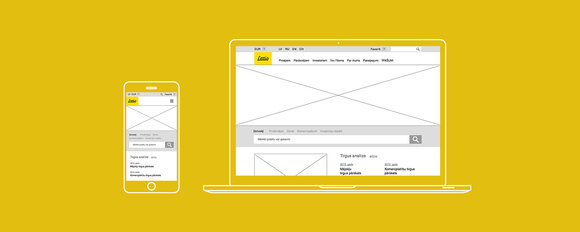 SOLUTION
Data displayed in Latio.lv are selected by integrating Latio real estate databases and client management, or CRM, system. The site's technological solution was developed based on the Ruby on Rails framework, with 100% automatic test coverage, thus ensuring stability and reliability both in day-to-day operations as well as for implementing future updates. The new site increased connectivity speed to the real estate database, thus aiding the work of Latio brokers. Since real estate brokers are the most frequent users of the Latio website, its advanced search option is based on 40 different criteria; properties can also be compared using a special option with more than forty selection criteria. Both professional agents as well as those simply looking for a property can save their favourite results for later viewing by sending them to their email account or downloading them as Microsoft Excel documents. On the website, newly built properties are supplemented with additional data, like a rating compared with other similar projects, energy efficiency, maintenance charges, and even individual apartment and entire project layouts. Apartments are also available for viewing.
An essential stage in developing a responsive website is testing, which in this case was carried out on 22 different devices, including popular tablets and smartphones. The site was tested using several internet browsers to prevent potentially unpleasant surprises related to the site's functionality and design display.
Latio is Latvia's largest full-service real estate company that provides a full range of business transactions, whether it involves finding a property (buying, selling, renting), evaluation, legal advice, property maintenance, land surveying, or other services. Established in 1991, the company currently employs more than 150 real estate professionals at 24 offices in different towns across Latvia. The company has carried out more than 10,000 real estate transactions and evaluated more than 80,000 properties.