Retail
Rimi E-commerce Web Platform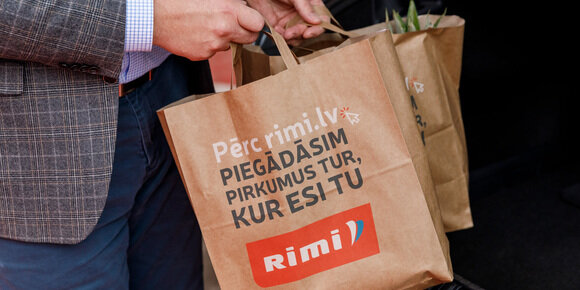 In Pursuit of making every day a little easier
Rimi, one of the most significant Pan Baltic retailers, worked side-by-side with CUBE Systems to build a seamless E-commerce web platform for more convenient grocery shopping.
Today's customers need a fast and straightforward shopping experience. And who is better than Rimi to use Big data in the creation of relevant, personalized shopping experience? Our core mission for Rimi e-commerce was to come up with an intuitive web platform design to hold more than 10 000 products in multi-level categories. But that is not all. This solution needed to be flexible for modifications to serve all three Baltic country differences while maintaining similar processes. On top of it, we needed to connect the Client Loyalty system with thousands of members, their personal benefits information, complex promotion structure, and tailor every detail to be as smooth and invisible as possible.
Strategically headless approach
The headless e-commerce structure might sound weird, but in fact, this website architecture makes perfect sense when it comes to eCommerce omnichannel demands for flexibility and quick integrations. It means that the end-user web portal and the back-office are "decoupled," making them somewhat independent from one another when it comes to internal system processes. Therefore Rimi can make updates to their customer-facing content without disrupting their business infrastructure. All for the greater good of uninterrupted shopping experience.
In less than one year, we developed a web platform that integrated more than 100 different APIs, including SAP Hybris Commerce and Rimi Loyalty membership system. Where did we start? We decided to use a mobile-first approach, overall designing more than 300 mobile and desktop screens.

"The share of mobile devices has grown exponentially. Since we needed to design a sustainable new-age e-commerce platform, we applied a mobile-first approach, believing that grocery shopping should be as easy and quick as a couple of taps on your mobile screen," Mārcis Miķelsons-Germs, lead UX specialist.
Simply scroll over long queues
Rimi e-store solution lets people enjoy grocery shopping online by providing an easy choice to receive groceries at home, in-store pickup points, or the unique Drive-in method.
There's one thing we kept in mind though all this process - Rimi is not just a retail brand, it's a food culture brand. Therefore we needed to find ways to incorporate new inspirational recipes, recommendations, enable customer save multiple baskets to plan their shopping, and one-click checkout designed to offer people what they need when they need it.
How's the performance?
We're happy to say that our Mobile-first approach was a correct bullseye decision. Data shows that more than 50% of the users visit the site from mobile devices
The average sum of the purchase is considerably higher than in the physical store
Home deliveries and Drive-in option has been booming
During Covid-19 national lockdown Rimi e-store became even more important for the customers and enabled Rimi Drive operations 24/7
We're proud to say that our partnership with Rimi is still an ongoing process. We're continuing to expand solutions for even better shopping experiences or, as Rimi defines, it the future of shopping.
Rimi Baltic is a part of ICA Gruppen AB, a Swedish retailer whose core business is grocery retail. The company was founded in 1938 by Hakon Swenson with the purpose of individual retailers to join forces and form purchasing centers. Today ICA Gruppen is one of the leading retail companies in the Nordic region.