forestry
Design of the Latvian State Forests' Work Performance Management System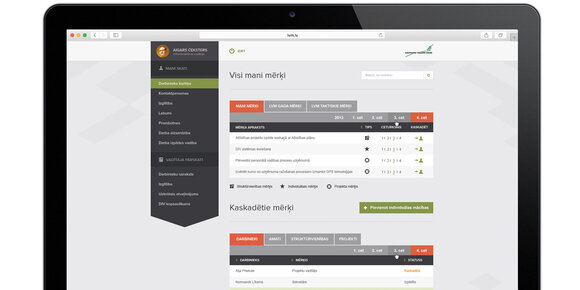 Latvian State Forests (LSF) wanted to develop a system which would help in managing and automating vacation planning and business processes related to the fulfilment of employees' targets.
To obtain information for developing a useful and easy-to-use system, we have interviewed those employees who know LSF internal processes best of all. Based on the information obtained and the system's functional design document, we have developed over 20 unique wireframes to plan the functionality and usability of the graphical user interface in detail. The developed wireframes were used to conduct usability tests, involving employees who would use this system in their daily work. Wireframe testing prior to design development and programming allows for the validation of the conformity of the system to user needs and the introduction of different usability improvements at a much faster pace and lower cost.
We developed the design based on the wireframes and LSF's graphical identity. In addition to over 20 unique design views, we have developed a style book about the graphical user interface, which makes further system development more effective — new functionalities and views, without losing usability and graphic quality, can be developed by using the guidelines of the style book with zero to minimal involvement of a usability specialist or graphic designer.
We have submitted the developed design and functional description document to the team of programmers who carried out the technical development and testing of the system.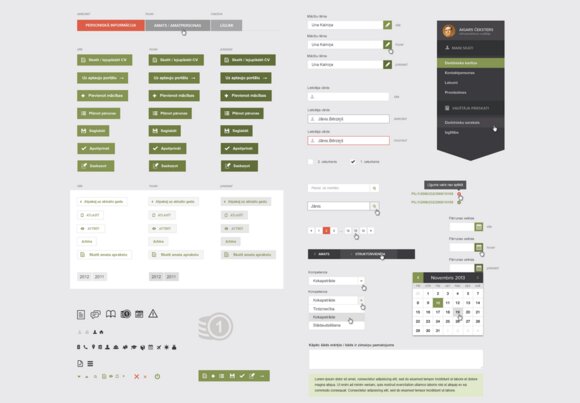 The work performance management system ensures the following support to business processes:
employees' data management — contact information, payroll statement, and other data
target management — planning of tasks set for achieving the targets and progress control
leave management — submission and approval of leave applications, delegation of deputies, common leave schedule overview in the form of a calendar
The system is integrated with the employee assessment and knowledge assessment systems. The system is used by all of LSF's office workers on a daily basis.
LSF manages 1.63 million hectares of land within the Republic of Latvia, of which 1.41 million hectares are covered in forest. LSF is a founder and active member of the European State Forest Association (EUSTAFOR).In addition to its main area of activities, i.e. forestry, LSF provides hunting and recreation services, cultivates selected seeds and plants, and offers natural resources such as sand, gravel and peat on the market.